Meet The Doctor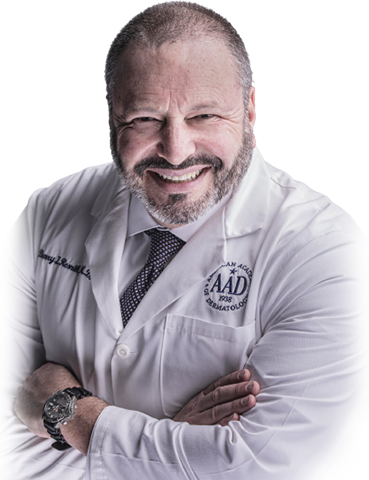 Barry I. Resnik, M.D.
Barry I. Resnik, MD is the Medical Director of the Resnik Skin Institute in Aventura, Florida. He graduated from Tulane University School of Medicine in 1990 and completed his residency in Dermatology and Cutaneous Surgery at the University of Miami School of Medicine in 1994. Dr. Resnik is a Diplomate of the American Board of Dermatology and a Fellow of both the American Academy of Dermatology and American Society of Dermatologic Surgery.
He has practiced in South Florida since 1994. He is a Voluntary Clinical Professor at the University of Miami School of Medicine Department of Dermatology and Cutaneous Surgery, where he teaches in the Residency program. Dr. Resnik is a volunteer staff physician at the Open Door Health Center in Homestead, FL, where he provides dermatologic care for low-income families. He is the Team Dermatologist for the World Champion MLB Miami Marlins.
His practice encompasses adult, pediatric and cosmetic dermatology and dermatologic surgery. Dr. Resnik's cosmetic surgery practice includes tumescent liposuction, Microdroplet Liquid Injectable Silicone, all manner of cutaneous laser applications including Deka Dot Fractional CO2 laser rejuvenation, Scarlet radiofrequency Skin Tightening, and Trichloroacetic Acid (TCA) chemical peeling. He is expert in the treatment of spider veins with injection and foam sclerotherapy. His noninvasive rejuvenation practice includes BOTOX®, Silicone Microdroplet augmentation therapy, Restylane, Juvéderm, Voluma, Revanesse and Bellafill fillers.
He has published numerous articles and book chapters in the dermatologic literature, including his most recent publication, a chapter on Procedures and Surgery for the Treatment of Hidradenitis Suppurativa in the Textbook of Hidradenitis Suppurativa.
Dr. Resnik has special interests in Psoriasis, Vitiligo, Acne, and Hyperhidrosis. He is an acknowledged expert in the medical and surgical treatment of Hidradenitis Suppurativa. He offers multiple one-of-a-kind therapies for these difficult diseases.
Education
Board Certified - American Board of Dermatology 1995. Recertified 2005,2015
Residency in Dermatology and Cutaneous Surgery - University of Miami/Jackson Memorial Medical Center, Miami, Florida 1991-1994
Internship in Internal Medicine - University of Miami/Jackson Memorial Medical Center, Miami Florida -1990-91
Medical Degree - Tulane University School of Medicine New Orleans, Louisiana - 1986-90
Appointments & Offices Held
Member, Executive Board, Hidradenitis Suppurativa Foundation, 2010-Present
Voluntary Clinical Professor of Dermatology and Cutaneous Surgery, University of Miami School of Medicine Miami, Florida 1994 to present
Member, Office-based Surgery Task Force, American Academy of Dermatology 1998-2004
Member, Coding and Classification Committee, American Society for Dermatologic Surgery 1997-2004
Member, Procedural Committee, American Society for Laser Medicine and Surgery 1998-2004
Chairman, Managed Care Committee, Florida Society of Dermatology 1996-97
Secretary/Treasurer, Miami Society of Dermatology and Cutaneous Surgery 1995-97
President, Miami Society of Dermatology and Cutaneous Surgery 1997-1998
Membership Committee, Florida Society of Dermatology 1995-96
Voting Member, Southern Institutional Review Board 1991-99
Program Faculty
Faculty Member, Laser Hands-on Workshop. Held at Academy '96, American Academy of Dermatology, Orlando, FL July 1996
Memberships
Diplomate - American Board of Dermatology - 1995 - Present
Fellow - American Academy of Dermatology - 1995 - Present
Fellow - American Society for Dermatologic Surgery - 1995 - Present
Fellow - Florida Society of Dermatology and Dermatologic Surgery - 1995 - Present
Fellow - Florida Society for Dermatologic Surgery - 1995 - Present
Fellow and Charter Member - American Society of Hair Restoration Surgery - 1995
Fellow - Society for Pediatric Dermatology - 1996 - Present
Fellow - American Medical Association - 1994 - Lifetime
Fellow - Florida Medical Association - 1994 - Present
Team Dermatologist, World Champion MLB Miami Marlins