Aesthetician Therapies
Aestheticians are skin care therapists trained in cosmetic treatments. Cosmetic treatments are done to improve your aesthetic appearance as well as to treat scars. At Resnik Skin Institute, we offer aesthetic procedures such as cosmetic facials, microdermabrasion facial, and glycolic acid and beta lift peels.
Cosmetic facials
Cosmetic facials are recommended to cleanse, exfoliate and nourish your skin to give you a clear well-hydrated complexion. Regular facials can help people with acne and blackheads to reduce the amount of breakouts they experience. Your aesthetician begins the facial by thoroughly cleansing your skin. The basic steps of a cosmetic facial include:
Skin Analysis- The aesthetician examines your skin closely to reveal various skin conditions that need to be treated.
Cleansing-Your aesthetician uses cotton pads or sponges and a cleansing lotion chosen for your skin type (dry, oily, combination, normal)..
Exfoliation- Exfoliant products are used to reduce surface oil, remove dead skin cells, and soothe and hydrate your skin.
Extraction of blackheads or whiteheads- Pore blockages or comedones will be gently removed.
Facial massage-Your aesthetician will massage your face using gentle strokes and stimulate your skin and facial muscles.
A facial mask will be applied depending on your skin type.
Steam treatment may also be used.
Advice on home skin care- Exclusive products and regimens will be recommended for at-home use to keep your skin looking its best between facials.
Microdermabrasion Facial
The microdermabrasion technique abrades the skin using a high-pressure flow of crystals. This is an effective treatment for fine wrinkles, enlarged pores, aging changes, and superficial scars with minimum risk and rapid recovery.
Microdermabrasion makes your skin thicker and healthier. Multiple treatments are beneficial as they encourage the production of higher levels of collagen and elastin which are essential for healthy glowing skin. It further improves your complexion and the overall appearance of your skin.
A series of 5-12 treatments are required to achieve good results. The treatment can be significantly longer in cases of acne scars. Initial treatments are scheduled weekly or biweekly followed by monthly to biannually for maintenance therapy. This technique should not be considered during concomitant use of accutane (isoretinoin), active herpes infection, malignant skin tumors, and certain keratoses.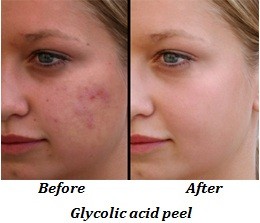 Glycolic Acid and Beta Lift Peels
Glycolic acid and beta lift peels are cosmetic procedures called chemical peels used to rejuvenate the skin. Chemical peels can diminish fine lines and wrinkles, even out skin discoloration, brighten a dull complexion, or soften rough skin.
The chemicals used in this cosmetic procedure, glycolic acid or beta salicylic acid, cause the damaged upper layers of skin to peel off and new skin to appear in 14 days.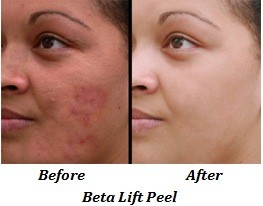 Chemical peeling requires some follow-up care. You must protect your skin from sun exposure and avoid smoking to prevent scarring and infection.
Tell your dermatologist if you are prone to cold sores, undergone any cosmetic procedure in the past, had a keloid scar or are taking medicines like Accutane, Differin, or Retin A as these can affect the outcome of a chemical peel.
SkinFinity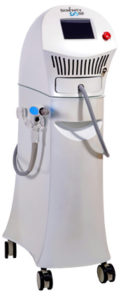 The Eclipse SkinFinity radiofrequency device is a fractional ablative, laser resurfacing treatment that improves skin laxity, fine lines, wrinkles, skin texture, stretch marks, and acne scars (including atrophic and non-keloidic hypertrophic scars). It is safe for all skin types and requires no down time. This technology is a significant improvement over previous fractional radio frequency methods that left patients with a long recovery period.
Sometimes called a Fractional RF procedure, SkinFinity can even be used around the eyes to provide a subtle lift when the upper eyelids begin to droop. Read more about Eye Rejuvenation treatments at Beatitude.
How does SkinFinity work?
SkinFinity uses technology called "In-Motion" to quickly treat the face or the body. The roller tip glides easily over the skin, creating what are called "Micro-ablative Treatment Zones" or MTZs. This advancement is much faster and less painful than previous radiofrequency techniques, and it allows more precise control. In fact, the full face can be treated in as little as five minutes.
The newer technology also allows the treatment to work on all skin types without the risk of damage or hyperpigmentation.
Who is a candidate for SkinFinity treatment?

Since SkinFinity is safe for all skin types, most anyone who has scars, signs of aging, or stretch marks can benefit from treatment. A series of SkinFinity treatments are usually required every 4-6 weeks.
We will evaluate your skin and recommend which treatment(s) from Beatitude's wide variety of procedures will provide you with the best results.
What can I expect from SkinFinity?
A topical anesthetic will be applied to reduce discomfort, but SkinFinity is not a painful procedure. You can also use ProNox nitrous oxide to help minimize discomfort. You will feel some heat during the treatment and perhaps some tingling.
After SkinFinity, your skin will look immediately smoother, radiant, and younger looking. These improvements will continue for a period of six months.
What does recovery from SkinFinity treatment require?
You can expect some slight redness after your treatment for a short time. Since SkinFinity utilizes state-of-the-art technology called Directed Radiofrequency Ablation (DRFA) that only affects the area to be treated, the healing time that used to be required is reduced to almost nothing. This advancement also decreases the possibility of complications.
Skinfinity can be used to address a range of issues both on the face and body, including:
Skin Resurfacing
Fine Lines and Wrinkles
Skin Rejuvenation
Stretch Marks
Atrophic Acne Scars
Non-Keloidal Hypertrophic Scars
Skin Laxity
Skin Texture